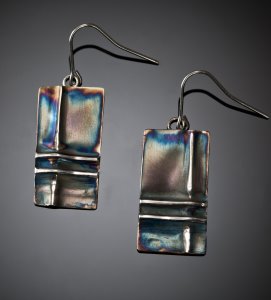 Biography
Penmaker and second-generation silversmith Matthew Davis was born in Las Cruces, New Mexico, and grew up in both the southern New Mexican desert and the rural hills of northern New Jersey. He studied art, computer science, and physics at Trinity University in San Antonio, Texas, and graduated in 1992. After working as a software engineer for fifteen years in New Mexico and the Washington, DC area, he shifted gears and moved to rural northeast Japan to teach English from 2007 to 2009. Upon returning to the DC area, he took up woodworking and silversmithing professionally.
He now lives in Silver Spring, Maryland with his wife and dog. When he's not in the wood shop or silver studio, he enjoys model railroading and windsurfing.
Influences
With a silversmith/goldsmith father and a textile artist mother, Matthew has been exposed to art all his life. From an early age, he loved both art and science, and has always sought ways to bring them together. Although they seem disparate on the surface, he has found beauty, elegance, and creativity are essential to both arts and sciences. Writing computer software requires a great deal of creativity. Conversely, building a beautiful and functional object from wood requires some understanding of the structure of wood and principles of engineering.
Matthew finds inspiration all around him, from nature to architecture to industrial design. He's always on the lookout for visual ideas that catch his eye, and thinking about ways to incorporate them in his work. Aside from his father's art, his greatest influence is probably Frank Lloyd Wright. He also takes a lot of inspiration from Art Deco, science fiction (especially from the 1970s and 80s), and Japan. He enjoys bringing unexpected and fun elements into his work as well, whether it's using toy cars as jewelry or carving a wood pen barrel to look like dripping paint.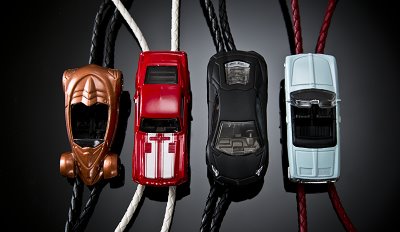 Pens
Pens sit at the intersection of Matthew's creative and scientific sides, where the artist's eye for beauty meets the engineer's attention to technical detail. Making pens from wood also gives him a wonderful connection to nature: the feel and smell of the different woods, the beauty of the grain, the way each piece of wood has a story to tell. Nature can spend decades making a piece of wood, and the wood itself bears the marks of those years. The most dramatic pieces of wood — intense burls with uneven grain and woods colored by the process of decay — don't have the structural strength needed for large projects but are perfect for pens.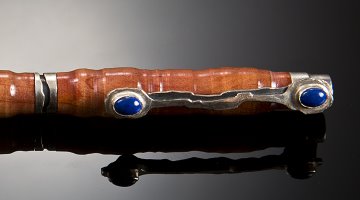 Pens also occupy a special place in the history of civilization. They are first and foremost instruments of communication. It is by the pen that ideas are transmitted from one person to another, across both time and space. There's a special feeling that comes from putting pen to paper... and it's even more special when you use a special pen!